HUNKY KNIGHTS

Illustration by Quel'Fabulous

Publisher

Amethyst Media Inc.

Years in Print

927

Production Schedule

Quarterly

Specs

32 Pages, Full Color Gloss,

Quantity

120,000
Hunky Knights is a male-identified underwear fashion magazine published in Dalaran featuring chique artisan undergarments modeled by gentlemen under an anonymous guise of a helm. The magazine began as a questionable monthly calendar featuring twelve scantily clad, well muscled men and has since evolved into a publication centered on body positivity, art appreciation, high fashion, glamour and peculiar interests across culture and faction alike. While the magazine has held on to its infamous title, the designers showcasing their undergarments work hard to create eye-catching fashions that compliment a myriad of body shapes and types.
Every model in the magazine showcases an undergarment while wearing only a helm or hood to conceal their identity and are credited under a unique, inconspicuous alias. Most of the participating designers do not know the identity of the models outside of the character they become on set for the photo shoot. Since after the first war, all of Hunky Knights' models have been elected via volunteer and networking within the Violet City fashion district.
Copies of Hunky Knights are typically available in niche shops across major cities within the Eastern Kingdoms and Kalimdor. Some glamour shots are more questionable than others and how much a garment covers and what it is suited for is entirely up to the designer and handled within loose guidelines. This nature of the publication seals its solid reputation as a saucy pin up magazine for many to slip quietly into their collections. It is a popular periodical on the shelves of 'His Majesty's Armoire', Silvermoon City's premiere novelty shop in the Bazaar.
Fun Facts
Edit
Felo'thore Novastorm (formerly Emberfell) featured as "Felore" in "Dragon Keeper in Maille Lace" by Designer Dominique Stefano in the June 578 issue of Hunky Knights
Amethyst Media in more recent years began publishing a femme edition of its flagship magazine, Ladies Knights under a similar premise.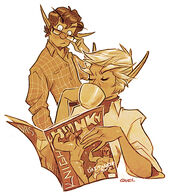 "Men Your Mother Warned You About" was the first entirely fan submitted suggestion for a theme to publish in the year 633.
Designers featured in the magazine are often notable for more than undergarments. Several top tier tailor and dress designers are reoccurring participants.
Frequently Featured Fashion Designers
Edit
Dominique Stefano: lace / contemporary
Keelen Sheets: retro / classic
Georgio Bolero: over-the-top / flamboyant
Me'lynn: intricate embellishment / sheer
Daryl Stack: gothic/ embroidery
Magar: furs / leather & studs
Ad blocker interference detected!
Wikia is a free-to-use site that makes money from advertising. We have a modified experience for viewers using ad blockers

Wikia is not accessible if you've made further modifications. Remove the custom ad blocker rule(s) and the page will load as expected.