Frostweed
Edit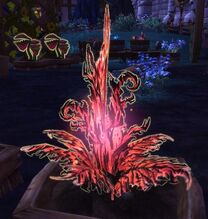 Type: Spiny Florette
Location: Frostfire Ridge, Shadowmoon Valley.
Environment: Found frequently in sheltered rocky outcropping or near icy and snowy rockfaces, or near glacier fed springs. 
Medical Uses: 

Burn remedy; the sap when drained from the stalk and palpated is an excellent cooling agent and will take the heat out of flesh without damaging burned skin.
Anti-inflammatory,
Impromptu scalpel/small blade; the thorns, when boiled, harden and become incredibly sharp, strong enough to resist fragmenting and with a fine enough edge to cut through leather cleanly.
Recreational Uses (if any): 

Food; when boiled and diced as a leafy addition to vegetables.
Compounds Created (if any):
Flower Meaning: 
Submitted by:

Ad blocker interference detected!
Wikia is a free-to-use site that makes money from advertising. We have a modified experience for viewers using ad blockers

Wikia is not accessible if you've made further modifications. Remove the custom ad blocker rule(s) and the page will load as expected.