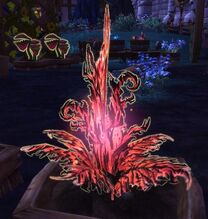 Type: Spiny Florette
Location: Frostfire Ridge, Shadowmoon Valley, possibly Gorgrond as well.
Environment: Found close to volcanic areas or steam vents; anywhere of intense and consistent heat. 
Medical Uses: 

Stimulant; the seeds can be used to heighten senses when dried

(Although its effects in high doses is unknown it is discouraged given the potential damage it could inflict on the body and mind of the user.)

Anticoagulant; Keeps blood running freely, went the sap is salved over an injury. 
Increases body temperature when ingested.
Can induce vomiting when eaten raw.
Heating agent; untreated, if used to line material with it will retain heat for two hours in freezing conditions (untested if longer in warmer environments). If dehydrated, can be used in a poultice for heat as well, lasts an hour in this state.
Recreational Uses (if any): 

Food spicing; when boiled and powdered.
Dares; some Frostwolf youth play games of valor where whoever can suck on a raw thorn the longest is considered the winner (unsure if recreational or simply inane).
Compounds Created (if any):
Flower Meaning: 
Submitted by:

Ad blocker interference detected!
Wikia is a free-to-use site that makes money from advertising. We have a modified experience for viewers using ad blockers

Wikia is not accessible if you've made further modifications. Remove the custom ad blocker rule(s) and the page will load as expected.