Ban'Quel

Location:

Southern Mountains

Overlords:

House of Ban'Zaram

Population:

Thriving

Terrain:

Mountainous
Grassland Terrace
Forest

Capital City:

Ban'zaram Towers

Economic Status:

Prosperous
Ban'Quel is a small province of the Kingdom of Quel'thalas overun by the noble House of Ban'Zaram. Located within the peaks of the farmost Southern mountains that border the former lands of Lordaeron, the thriving area contains a multitude of towns and farmland build atop the natural and magically-created plateaus and terraces between the peaks.  However, the densest portion of the population dwell within the Ban'quel mountains themselves. The peaks are dotted with a multitude of spires, balconies and keeps, and are collectively known as the Ban'zaram Towers.
[WIP]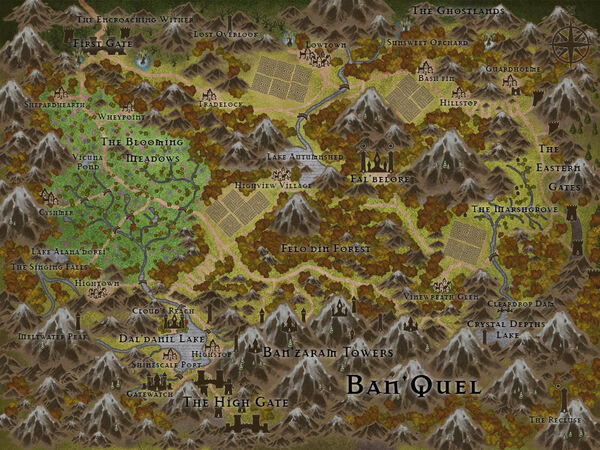 Ad blocker interference detected!
Wikia is a free-to-use site that makes money from advertising. We have a modified experience for viewers using ad blockers

Wikia is not accessible if you've made further modifications. Remove the custom ad blocker rule(s) and the page will load as expected.